Consultative Selling AEP 2021—Step One: Discovery
Posted on

July 22st, 2020

by Cameron Schulz
In our blog, Consultative Selling: Win More during AEP 2021 the process for consultative selling is broken down into 5 essential steps. The initial step, Discovery, is described in the Consultative Selling: 5 Steps to go from Sales Rep to Sales Champ infographic as "listening to and learning from your prospect." This step might be easy if your prospect has a lot to say, but what if they're not quite sure what to say or where to begin? Asking the right questions, at the right time (and allowing your prospect to answer) is a skill that all sales champs should have to facilitate a consultative session during Annual Election, or Enrollment, Period (AEP) 2021.
In the following blog I layout a framework for consultative Q&A using examples from our newest infographic, Consultative Selling AEP 2021: Q&A Pattern Framework. The infographic was created to help you determine when you should shut up and listen, when it's appropriate to prompt your prospect, and provide example questions to use for prompting. If you'd like to download the infographic and skip the rest, you can do so below. However, I would encourage you to take a quick look through the blog as there may be a few extra helpful tips to assist you in your discovery process.
Download Now: Our New Consultative Selling Infographic: Q&A Pattern Frameworks
Breakdown: Consultative Q&A for AEP 2021
Knowing what to ask, and when to ask it can be tricky to determine. You want your prospect to feel like they are in control, so it's important to begin every session by letting them know that you're there to learn about their needs and challenges. If, however, they aren't eager to share, it's okay to ask them a question that will assist them in opening up about their situation. Appropriate questions for this stage may include:
Consultative selling is all about learning how you can best assist your prospect. Questions such as these keep the focus on them and reestablish their control of the conversation.
Note: This is something to keep in mind with every question you ask. Your questions should be open-ended and return the spotlight to your prospect. Otherwise, you're putting constraints on both their ability to answer and your ability to gain a full understanding of their situation.
Initial questions like those above may provoke your prospect to open up and share the necessary information without frequent prompting. In such a situation it's important to listen actively and ensure that the conversation remains on topic. Asking for clarification or examples will convey to your prospect that you're engaged in what they're telling you, and it can redirect the conversation without taking control or rushing the prospect. You may ask them questions like:
Referencing a specific statement from the conversation will aid the prospect in quickly recalling the context without influencing how they answer. The prospect remains in control, and the information they're sharing remains untainted by your perspective.
Note: You should always be actively listening when a prospect is speaking because you never know when they may share something very important to them. Asking questions such as the examples above should happen whenever you truly need further explanation. After all, you want a clear picture of their needs and challenges. You can't get that if a statement is left blurry.
It's also possible that your initial prompt may not be enough to inspire a continuous flow of information. In this case, it may be necessary to prompt them further. Active listening will be important in this scenario because your next question should correlate to their answer. For example,
Your Question: → Prospect's Answer:
Your next question should be something to the effect of
There are many more examples of questions you could ask, but these both demonstrate the key components of a consultative question discussed earlier. Theoretically, following one or two questions, you and your prospect will continue to converse naturally, and your Q&A pattern will loop back to active listening and occasional clarification questions. However, theory doesn't always translate to reality. In the event that your prospect needs further prompting, you should continue to follow a pattern of listening actively and asking questions that follow a train of thought similar to that of their response. Here is another example:
Prospect's Answer → Your next Question:
As with your previous questions, the goal is to keep the focus on the prospect and merely assist them in continuing the conversation. You want to know anything and everything that will direct you in creating a custom pitch with plans that fit their specific situation. Taking a true interest in your prospect is the best way to earn their confidence and trust. As a result, the question, answer, and listen pattern described above, will create a framework that looks like this: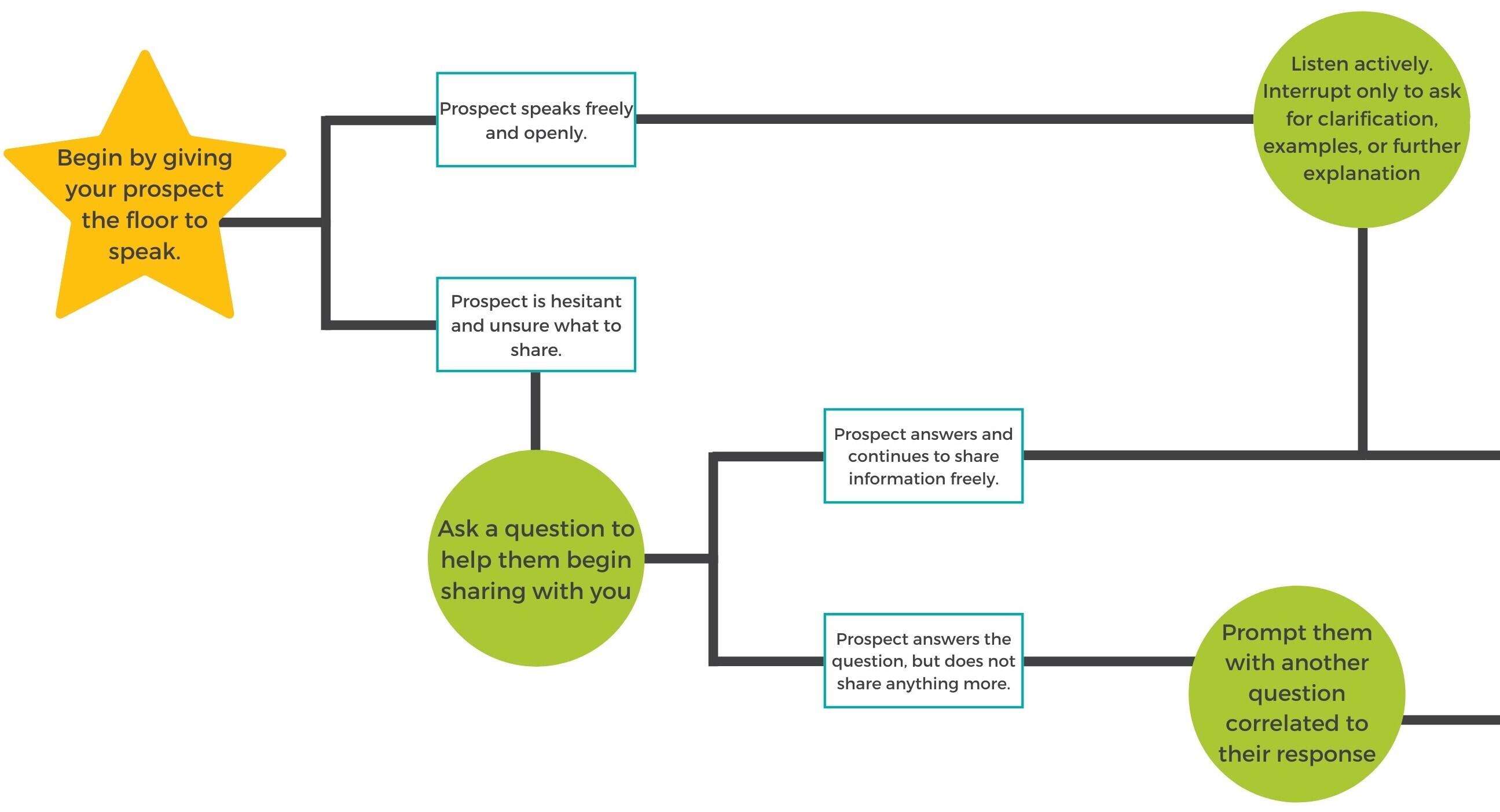 This pattern replicates and circulates with the hope that your prospect will ultimately become comfortable enough that you can take an even more passive position—asking questions only for clarification. The final framework, including the examples used above looks like this:
A Foundation for Flexibility
People are unpredictable. You'll run into prospects who are ready to tell you their entire life story. You'll run into people who aren't quite an open book, and you'll run into every variation in between those two. Having a foundational framework for when to ask what types of questions will help you adapt to each unique prospect quickly, smoothly, and effectively. Annual Election Period is a critical season for you, but more importantly, it's a critical season for your prospects. They need the control to ensure that, at the end of the day, they'll receive the coverage they need, but they're not experts in the healthcare industry. They're counting on you, as their sales champion, to assist them in every way possible. Use this framework and its examples to brainstorm questions that will help spark a conversation and reveal the information you need to create a unique pitch that addresses each of your prospects pain points.
Learn how Triptych empowers consultative selling with compliant customizable material and more at Triptych.com/healthcare